Partner with Jellybeanstreet to Turn Your Childcare Business into a Fine Art Keepsake Hub!
Are you looking for an exciting new opportunity to take your daycare center to the next level? We are thrilled to introduce you to our partnership program at Jellybeanstreet, where we offer a unique service that transforms toddler artwork into stunning fine art keepsakes. These peices of art are not only beautiful, but they also make for incredibly meaningful gifts that parents and loved ones will cherish for years to come. When you partner with us, you'll gain exclusive access to this service, which you can offer to both new and existing parents of your daycare business. This unique offering will not only add value to your business but also create an additional revenue stream.
Our fine artwork creations are not only visually stunning, but they also hold significant sentimental value for parents and loved ones, making them a cherished and timeless gift that will be treasured for years to come by parents of your daycare. Partnering with Jellybeanstreet is an opportunity to provide an unparalleled experience to your customers and differentiate yourself from competitors.
What We Are Looking For
We are looking to partner with child care businesses around the world, including family child care homes, group child care homes, and child care centers, that regularly conduct creative art activities with children aged 0-5. If your business offers such programs, we invite you to become a Jellybeanstreet Childcare Partner.
Examples of Artwork Created Through Jellybeanstreet Workshops
Allow us to present some examples that showcase the artwork created during our workshops, which offer activities similar to those conducted at your childcare business. These pieces are a testament to the creativity and imagination that our unique service can bring to life.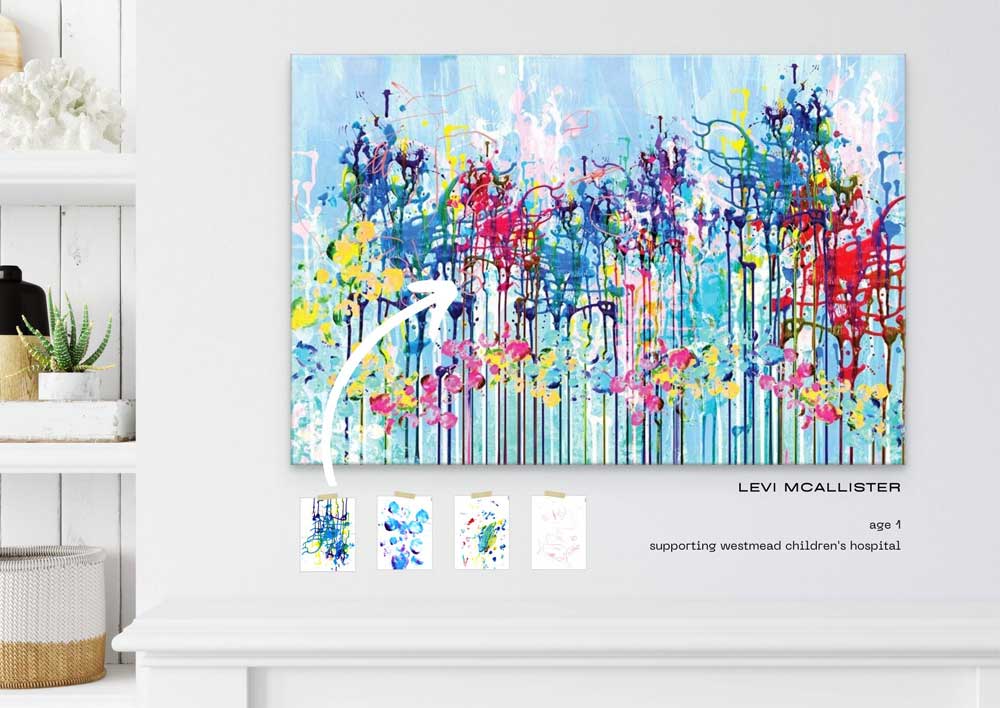 "Our son was so proud to see his artwork on display and even more proud knowing that it was supporting a great cause."
- Michelle M.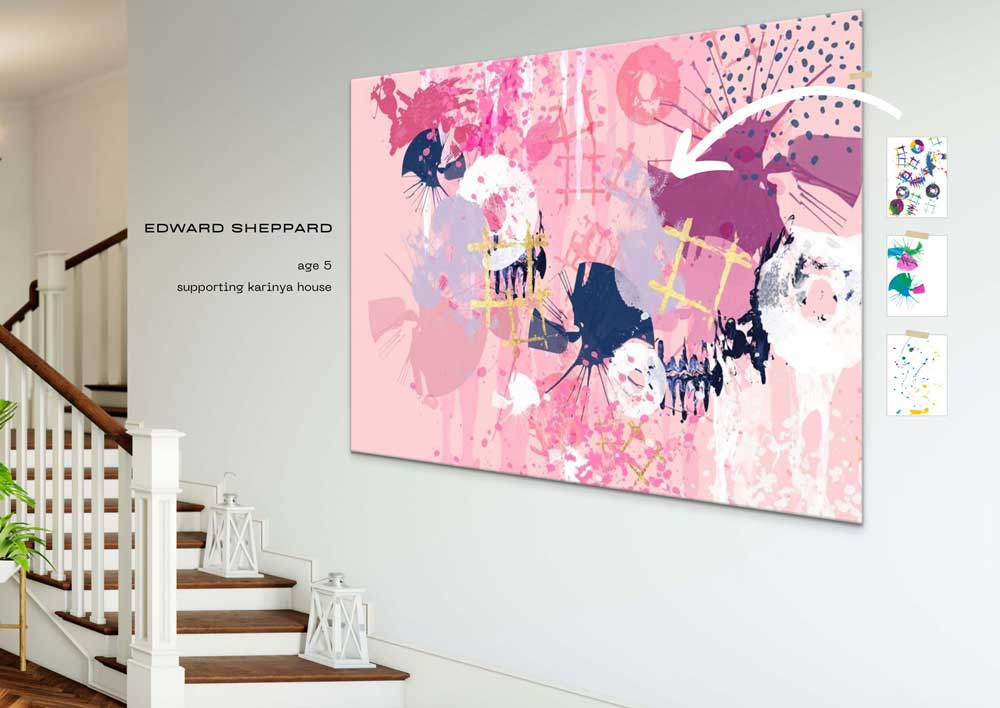 "It's amazing to see how the graphic artists brought our child's creation to life in such a beautiful and unique way."
- Kathy S.
Our Expertise
At Jellybeanstreet, we have established ourselves as experts in transforming children's messy play and paint workshops into beautiful fine art keepsakes. With almost 10 years of experience, we have successfully turned thousands of children's finger paintings into modern masterpieces that parents and loved ones cherish for a lifetime. Our unique service has gained a renowned reputation, with children's artwork featured on House & Garden, Channel 7 News, and even on Netflix in an episode of Yummy Mummies.
We are proud to support over 400 children's charities, from Ronald McDonald House to Make-A-Wish Foundation, by donating a portion of the profits from each fine art keepsake sale. Partnering with Jellybeanstreet not only enhances the value of your daycare program but also allows you to support a great cause and make a positive impact in your community.
Why Partner with Us?
You already have children who take part in creative art activities at your daycare.
You can offer parents the unique opportunity to have their children's artwork turned into fine art keepsakes printed on premiem canvas.
We provide all the marketing for parents to take home, and take care of of the entier sales process from printing to delivery
By offering this unique service, you can enhance the value of your program and create a lasting impression on parents and families.
What You Get
A trusted brand with a proven niche in parental pride.
The opportunity to create an additional revenue stream for your business.
The satisfaction of supporting children's charities through your partnership with Jellybeanstreet.
Get free promotion of your daycare throughour paid ads and social media marketing.
A dedicated webpage to promote your business and a gallery of artwork created from your daycare.
How It Works
Partner with Jellybeanstreet and unlock the limitless creativity of your daycare children. We'll provide detailed videos of the activities we use during our workshops to ensure the best results.
We'll provide you with all the marketing materials you need to send home to parents to get started.
After taking the artwork home, parents select a package, photograph their artwork and upload the photos online.
We then transform it into a beautiful fine art keepsake, capturing the essence of their time spent at your daycare.
We proudly display the artwork our website for parents to purchase, promoting both the artwork and your beautiful daycare where it was created.
When parents purchase the artwork, we print and deliver to the customer with a portion of profits paid to your daycare.
But we're not done yet! We'll keep the momentum going by promoting the artwork to family, friends, and other businesses. Each time it re-sells, we'll donate a portion of the profits to children's charities and an additional portion to your daycare.
With our innovative partnership program, everyone wins. Choose to get paid weekly or bi-weekly for all artwork sales.
More Examples
Be inspired by the incredible artwork created through our workshops, featuring similar creative art activities as those used at your daycare. [ View Workshop Artwork ]
Explore our online gallery to see the wide range of beautiful artwork we've transformed from children's scribbles and finger paintings over the years. [ View Workshop Artwork ]
Join Our Partnership Program and Transform Your Business Today!
Our partnership program is available to child care businesses in numerous countries worldwide. Contact us today to find out if your business qualifies to become a Jellybeanstreet Childcare Partner and offer our unique service that transforms children's artwork into beautiful fine art keepsakes.
And the best part, for a limited time, if your daycare qualifies as partner, there is no cost to you, its absolutely free. We look forward to partnering with you to provide parents with a unique and special way to cherish their children's artwork!
Apply now and get ready to transform your business with Jellybeanstreet!